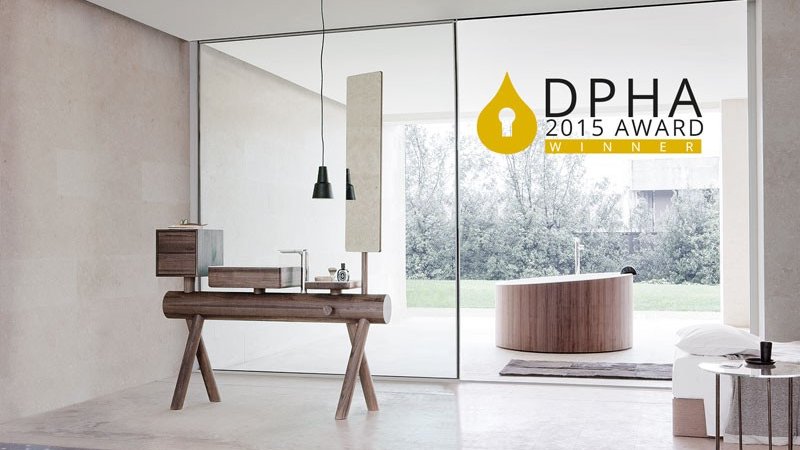 10/21/2015
GRAFF Awarded Multiple Honors at This Year's DPHA Awards
GRAFF® Wins DPHA's 2015 Furniture Product of the Year and Customer Service Department of the Year Awards
GRAFF is excited to announce that its Dressage Vanity, designed by Nespoli and Novara Design Studio, has won the Furniture Product of the Year award at the 2015 Decorative Plumbing & Hardware Association (DPHA) Annual Conference and Product Showcase. The premier manufacturer of precision-engineered contemporary products for the bath and kitchen, GRAFF has also been acknowledged for their dedication and commitment to customer service with this year's Customer Service Department of the Year Award.
The judges recognized GRAFF's Dressage Vanity as the Furniture Product of the Year for its impeccable craftsmanship. Designed by Nespoli and Novara Design Studio and made from DuPont Corian®, the compact, freestanding vanity features canaletto walnut solid wood and is positioned on a minimalist, sawhorse shaped base, concealing all plumbing. The Dressage Vanity stands out with its contemporary design, harmonious lines and traditional detailing. The vanity is a fully customizable slim unit that includes a complementing adjustable mirror, shelf and towel hook.
In addition to their recognition for the Dressage Vanity, GRAFF has won DPHA's Customer Service Department of the Year award. This award is bestowed upon manufacturers who have achieved outstanding customer service in the plumbing industry. GRAFF's customer service department was evaluated based on responsiveness, courtesy, knowledge and overall performance. The company is proud to be recognized for their efforts and commitment to making customer satisfaction their highest priority.
This year's DPHA Product of the Year Awards honored outstanding innovations, design and technological advancements of decorative plumbing and hardware products. DPHA is the nation's largest non-profit organization dedicated to advancing the interests of the decorative plumbing and hardware industry. The awards program allows DPHA members the opportunity to have their products evaluated, analyzed and critiqued by the leading journalists in the decorative plumbing field. The 2015 judges included, Veronika Miller, Editor of Modenus; Mary Jo Peterson of Mary Jo Peterson Design; Eliot Sefrin, Editor Emeritus of KBDN; Stacy Shoemaker Rauen of Hospitality Design Magazine; and Tony Vecchiarelli of Tony V. Plumbing & Heating.
About GRAFF
Headquartered in Milwaukee, Wis., and with locations throughout Europe, GRAFF is recognized globally for its trend-setting products and unique vision. Supported since 1922 by extensive plumbing and hardware manufacturing experience, GRAFF offers a wide range of contemporary, transitional and traditional styling. GRAFF's commitment to creating cutting-edge, premium-quality fixtures is evident in each and every product. GRAFF employs more than 1,000 dedicated professionals and has control over the full production process, making it truly a vertically integrated manufacturer.