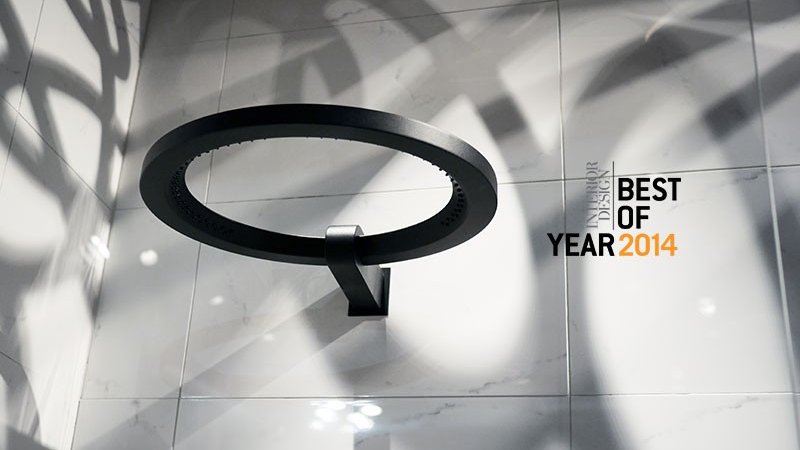 01/12/2015
Ametis Ring Awarded 2014 Interior Design Best of Year Award
NEW YORK CITY, NY, USA – GRAFF's® Ametis Ring, designed by Davide Oppizzi, was chosen as the 2014 Interior Design Best of Year Award winner in the Bath Fittings category. Filled with 1,000 designers, architects and manufacturers, the 9th annual Best of Year Awards was held at Frank Gehry's IAC Building in New York. The auditorium was standing room only, as the winners were announced live by hosts Cindy Allen, Editor in Chief, and Mark Strauss, President and Publisher using the IAC's 80 foot video wall to present. GRAFF is honored to have won such a prestigious award.
Best of Year award finalists were chosen by an online vote of industry leading architects and designers that took place in October. The voting site experienced a 50% increase in unique visitors. Choosing from 2,000 submissions, Interior Design Magazine Editor in Chief Cindy Allen and a jury of design leaders selected the winners.
The Ametis Ring stands out with its fluid design and spa-like halo effect. With two distinct water functions, the user can effortlessly switch between a rain and waterfall setting. Water flows gently, revitalizing the mind and indulging the body in a euphoric cleansing experience. The Ametis Ring blends a circular shape and cutting-edge design to invigorate not only the body, but also the eye with finishes of polished chrome, architectural black™ and architectural white. Containing many high-tech engineering features, the Ametis Ring uses a full-spectrum chromotherapy LED lighting system to add a new dimension to the ring. With a 6-color LED controller, the user can choose their mood or "chroma" and immerse themselves in a complete feeling of tranquility.