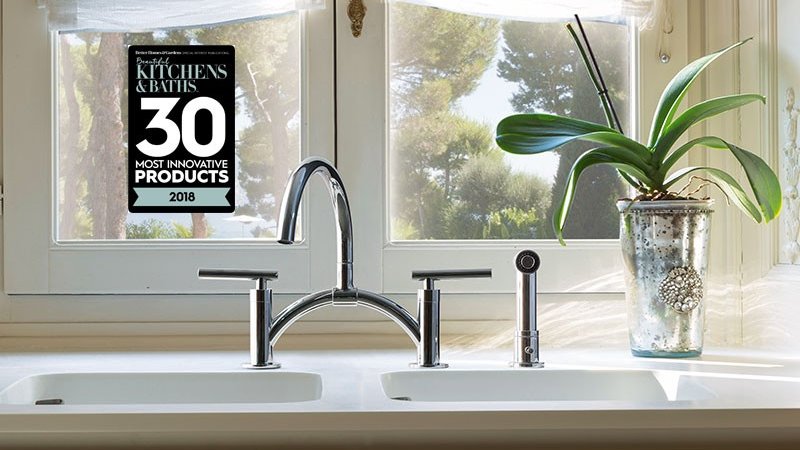 01/09/2018
GRAFF's Sospiro Collection Named A 30 Most Innovative Product, 2018
GRAFF®, manufacturer of contemporary precision-engineered kitchen and bath products, is delighted to announce that its Sospiro Faucet Collection has been named a 30 Most Innovative Product 2018 by Better Homes & Gardens Magazine. The annual program, which honors products that highlight innovation in design, was drawn to GRAFF's clever take on a traditional bridge faucet concept.
GRAFF's Director of Business Strategy & Development comments, "We could not be more excited to see that the marketplace is reacting positively to Sospiro. We are incredibly proud of this collection and the innovation it brings to kitchen and bar spaces."
The latest innovation from GRAFF's internal G+ Design Studio, the Sospiro Collection is a contemporary twist on a traditional style. A bridge style paired with sleek, curvilinear lines, the innovative design eliminates the traditional third post often associated with bridge faucets. In turn, the faucet enhances the spaces it occupies not only with a sophisticated profile, but also with elevated sanitation capabilities, separating the distribution point of hot and cold water.
"Our team was impressed with GRAFF's twist on a traditional bridge faucet design" says Samantha Hart, editor of Beautiful Kitchens & Baths.
The striking faucet is outfitted with two sleek and substantial cylindrical levers for both the single-hole and bridge models. The single-hole offering is equipped with a pull-down spray head that includes dual-function spray and stream water flow controls for a minimalistic style that satisfies the needs of modern kitchen and bar environments. Minimalistic in theory, from the clean, continuous spout to the singular, slender, circular base ring, the faucet also qualifies as maximalist with several luxurious finish options available, including, Polished Chrome, Brushed Nickel, Polished Nickel and Olive Bronze™.
Sospiro is available with a matching independent side spray offering added convenience for the bar/prep faucets and the bridge kitchen faucet. As with the single-hole kitchen spray head, the side spray is equipped with a dual-function control allowing the user to easily change between spray and stream operations. A progressive valve within the side spray provides added value, allowing control of both the hot and cold and on and off systems without requiring interaction with the central sink faucet.
From concept through installation, Sospiro is emblematic of its inspiration point, the famous bridges of Venice. Emulating the elegant arches that connect the classic canals of the historic Italian city, Sospiro is graceful and strong in aesthetic.